Keeping Up With Golf Abroad
Chloe Belle Hooton is studying in Rennes, France for nine months however, that doesn't mean that she's had to put her passion on hold. Here at SYA it's truly important for us to make sure that students continue to participate in activities that they would back at their home schools.

"I am lucky enough to have been placed with a wonderful host family who loves golf as much as I do," she said. "They got me a membership at their country club just outside of Rennes."
"It's difficult to find a balance between school work and golf, but the great faculty at SYA has made this balance manageable," she continued.
Not only did Chloe Belle get placed with a host family who is also passionate about golf, SYA France Resident Director, Denis Brochu, has helped alter her schedule so that she has a manageable workload that facilitates her golf training. "Denis helped me immensely with my organizational skills and is always there to offers his advice. He has been incredibly helpful in all of my French classes and that has helped me to be able to work on my golf game while abroad."

Meet Chloe Belle
Chloe Belle picked up a golf club when she was just two-years-old. In a sport where only about 23% of women play, the San Diego native has participated in numerous national, state, and world championship events.
Chloe says it best herself, "When most people think of golf, they think of the recreational sport men play at country clubs." However, when Chloe Belle thinks of golf, she thinks passion, hard work and endless hours spent working on her game at the driving range.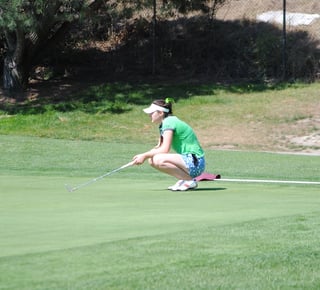 As the 19-year-old explains, although golf doesn't require a ton of raw athleticism like football or swimming does, it's much harder than most imagine.
"Because of the lesser physical element, I'm able to practice for hours on end which creates a need to constantly focus." During tournament season she spends her days at the golf course, from sunrise to sunset.
In order to make practice productive, she must maintain focus on the game the entire time, which may not be physically exhausting but definitely is mentally. "You could practice and have more talent than anyone on the green, but if you can't get in the zone the day of the tournament, all bets are off."

How It All Began

Most toddlers aren't sure what a golf club is, but that was not the case in the Hooton family. "My parents had gotten my older sisters involved and I was always running around the golf course." She explains, "My parents just figured why not put a club in my hand?" And the rest is history…
She began competing at age four and at just six-years-old Chloe Belle found herself competing in the Callaway Junior World Championships, shooting a 66 at Presidio Hills and tied for 17th place in the girls 8-and-under division. She went on to get 2nd place at the Callaway Junior Word Championships at eight years old.
Chloe Belle has been playing golf for a total of 14 years. "I golfed from ages two to fourteen then quit due to a persisting back injury and rowed for three years throughout high school." She explains, "When I was 17 I decided to quit rowing and pick up golf again."


After returning to the green, she played for her school's team senior year, continuing to make impressive strides in her golf career. "I was the co-captain and Roundtable Award winner."
"Funnily enough, I broke my sister's 9 and 18 hole school records with a 31 and 65 at the league championships, setting a league and course record with the 65," she continues, "We had an amazing team season, finishing undefeated and I was lucky enough to medal (a medalist is the individual with the lowest score i.e. the individual winner) in every match we ever played in. It was great to close out my high school eligibility with such an incredibly supportive team and coaching staff"
Chloe Belle plans on playing Division I golf in college and we're thrilled that SYA has allowed her to see the world and immerse herself in a new culture while continuing to train for her college career.