Jennifer Seabolt is one of our campus reporters currently attending SYA Spain. She is a junior who came to SYA from the Punahou School in Honolulu, Hawaii. She enjoys singing, dancing, yoga and exploring Spain. Read Jennifer's blog as she reflects on the types of travel she has done this year.

Where has this year gone? It seems like just yesterday I got on a plane in Boston and arrived in Spain, wondering what I had just gotten myself into. What I have done this year is incredible. I've been to four different countries, almost every autonomous community in Spain, and can make it through everyday life independently and happily. I have amazing new friends with whom I now have countless memories, and I'm not ready to leave them in a few weeks.
Not your average Spring Break
As my traveling skills progressed, I kept growing more and more. I figured out how to travel out of the country with just two other people, find my way around a new city without Wi-Fi, and discover a new city willing to learn all about it. Spring break was the biggest independent travel that I've done this year. I went to Córdoba, Sevilla, Toledo, and Segovia. Since our break coincided with Semana Santa (Holy Week), it was amazing to be immersed in the Spanish culture. While some Semana Santa traditions appear strange due to American history, it was still amazing to stand in the streets of Córdoba watching the processions head toward the church. It was a moment in which I really felt like a part of the Spanish culture. I have that feeling of community a lot when I travel. My first independent travel was in November when I went to San Sebastian. I was still a tad insecure about the language, but it was the first time I felt independent and free, which probably makes this one of my favorite places. It was a defining moment not only in my SYA year, but also in my life as a whole.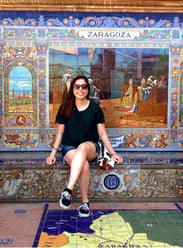 Travel tips for future SYAers
One of my biggest pieces of advice for my past traveler self, as well as any future travelers is to let whatever happens happen. Don't be too set in stone on what you want to do. Some of the best memories I have from travels, and just life in general in Zaragoza, are from spontaneous discoveries. Once when my friend and I were wandering around Valencia trying to get back to our hotel, we got lost twice and ended up in the exact same place. We ended up finding a really cool part of the city we would have never found if we hadn't decided to try and walk back. It's times like this, getting lost, not freaking out, and finding something better instead, that have really made my year.
SYA Capstone project

Despite all of my crazy adventures, I do actually go to school! To wrap up the year, we're doing a Capstone project that consists of a final paper, a presentation, and having the opportunity to travel to the place that our project is based in. I'm lucky enough to go the beautiful cities of Girona, Figueres, and Cadaqués, and I'm studying how the art of Salvador Dalí reflects the psychology theories of Sigmund Freud. I'm so excited to see how it comes together. Psychology is something I'm really interested in, and to combine it with what I've learned in art class this year, along with being able to show the Spanish I've acquired is a great way to end this academic year.
I can't choose the best part of this year. Saying one moment was my favorite would immediately be overruled by another, and then another. I'm so grateful for everything I've experienced this year, and I wish I had another nine months.